Watsonia meriana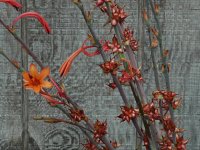 Synonyms: Watsonia bulbullifera Mathews & L. Bolus; Watsonia meriana (L.) Miller var. bulbullifera Mathews & L. Bolus; Watsonia bulbifera; Watsonia angusta auct. non Ker-Gawl.
Common names: bulbil watsonia; watsonia
Watsonia meriana (bulbil watsonia) is a perennial flowering herb (family Iridaceae) found in disturbed areas, coastal prairies and coniferous forests along the northern coast of California. This corm-forming, ornamental, South African native reproduces by growing bulblets. Bulbil watsonia, which is generally avoided by wildlife as a food source, forms dense patches that may crowd out other plants. Bulbil watsonia infestations tend to spread slowly on their own, but they may establish new populations by human movement of plant material and soil.
Rating:
Limited
Cal-IPC Resources
Other Resources
USDA PLANTS database -
Federal database with information on identification and distribution, and links to websites in individual states.
Jepson Online Interchange for California Flora - Information on taxonomy, biology, and distribution from the UC Berkeley Jepson Herbarium.
CalFlora - Distribution information by county based on submitted observations and herbarium specimens.
Symposium Presentations
Cal-IPC News Articles
Madison, J. (1996). Highways as corridors of dispersal. CalEPPC News. 4: 9.