Salsola soda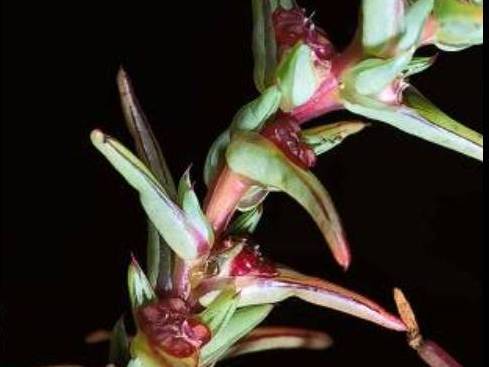 Common names: glasswort; oppositeleaf Russian thistle
Salsola soda (oppositeleaf Russian thistle, glasswort) is an annual (family Chenopodiaceae) found in the San Francisco Bay region. Oppositeleaf Russian thistle is native to southern Europe and inhabits vernal pools, swamps, mudflats and salt marshes. It may form dense stands in estuaries, especially in disturbed areas or places where dredge soil is discharged. It is also widespread in undisturbed salt marsh areas in the southern San Francisco Bay. Oppositeleaf Russian thistle's floating fruits act to distribute its seeds on tidal currents.
Rating:
Moderate
Cal-IPC Resources
Other Resources
Symposium Presentations
Ryan, F. J., D. R. Ayres, et al. (1999). There's more to tumbleweed (Russian thistle) than meets the eye. California Exotic Pest Plant Council Symposium '99. Sacramento, CA.
Cal-IPC News Articles
Baye, P. (1998). More on Salsola soda. CalEPPC News. 6: 7.
Tamasi, J. (1998). The distribution of the non-native plant Salsola soda in San Francisco Bay: Summary of a thesis. CalEPPC News. 6: 4.