Pennisetum clandestinum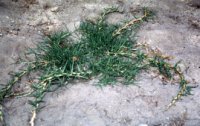 Common names: kikuyugrass
Pennisetum clandestinum (kikuyugrass) is a perennial grass (family Poaceae) that prefers disturbed areas, such as roadsides, urban areas, cropland, turf, forested sites and wetland areas. Kikuyugrass reproduces from seed and vegetatively, using its extensive system of creeping stolons and rhizomes. Kikuyugrass populations can be controlled by hand removal if detected early. Agricultural and landscape maintenance equipment should be cleaned after use in areas with kikuyugrass infestations in order to prevent the spread of rhizome and stolon fragments.
Rating:
Limited
Cal-IPC Resources
Other Resources
Symposium Presentations
None for this species.
Cal-IPC News Articles