Leucanthemum vulgare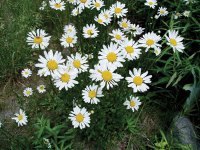 Synonyms: Chrysanthemum leucanthemum
Common names: ox-eye daisy; dog daisy; margriet; marguerite daisy; moon daisy; white daisy; yellow daisy;
Leucanthemum vulgare (oxeye daisy) is a perennial forb/herb (family Asteraceae). It is commonly sold at nurseries. Oxeye daisy is found in both the North Coast Range and northern Sierra Nevada from sea level bluffs and canyons to alpine mountain meadows at 7,000 feet (2200 m), and from central California to Oregon. Oxeye daisy displaces native plant species, growing so densely it excludes other vegetation. It is not known to be used as a good forage by animals. While not considered poisonous to cows, it does impart a disagreeable taste to their milk.
Cal-IPC Rating:
Moderate
Cal-IPC Assessment
Plant Assessment Form - Information gathered by Cal-IPC on the impacts, rate of spread, and distribution of invasive plants in California. Does not include management information.
Cal-IPC Newsletter Articles
Cal-IPC Symposium Presentations
Carrithers, V., B. Miller, et al. (2005). Aminopyralid: A new reduced risk active ingredient for control of broadleaf invasive and noxious weeds. California Invasive Plant Council Symposium 2005. Chico, CA.
Donaldson, S., W. West, et al. (2003). Getting the job done: Working within the regulatory environment at Lake Tahoe to manage weeds. California Invasive Plant Council Symposium 2003. Kings Beach, CA.
Other
Leucanthemum vulgare

Information