Gazania linearis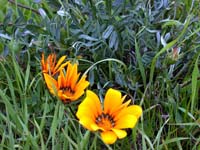 Synonyms: Gazania longiscapa DC
Common names: gazania; treasure flower
Gazania linearis (gazania) is a perennial herb (family Asteraceae) introduced as an ornamental plant. It has been reported escaping into creekside vegetation and into native grassland from plantings in San Francisco, Monterey, and Ventura Counties, where it can form a dense groundcover and outcompete other species.
Rating:
Moderate
Cal-IPC Resources
Other Resources
Symposium Presentations
Cal-IPC News Articles
Brusati, E. (2011). Cal-IPC Inventory update adds eight plants. Cal-IPC News. 19: 18.
Cal-IPC (2008). Weed Alerts. Cal-IPC News. 16: 8.