Dipsacus sativus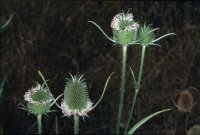 Synonyms: In most of the literature used in this review, the teasels were described as a group, making very little distinction between D. sativus, D. fullonum, and D. sylvestris (name also used for D. fullonum); therefore information is largely identical. Further, according to personal observation by J.M. DiTomaso, in California, both D. fullonum and D. sativus occur in similar habitats and behave in a similar manner.
Common names: Fullers teasel
Dipsacus sativus (fullers teasel) is a biennial (family Dipsacaceae) found in California's Coastal and Peninsular Ranges and the San Francisco Bay area. It favors disturbed sites, including grasslands, roadsides, ditches and riparian sites. Fullers teasel's spiny flower heads were used for carding wool before metal carding combs were created. Teasel plants may grow to form dense stands that are impenetrable by humans and animals. Teasel seeds can survive in the soil for 6 years or more, and once a dense population is established, it can persist for decades. Small populations may be mechanically controlled by removing plants to a few inches below the root crown.
Rating:
Moderate
Cal-IPC Resources
Other Resources
Symposium Presentations
Carrithers, V. F. (1997). Using Transline* herbicide to control invasive plants. California Exotic Pest Plant Council Symposium '97. Concord, CA.
Cal-IPC News Articles