Dipsacus fullonum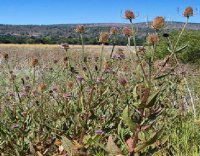 Synonyms: In past was mistakenly called Dipsacus sylvestris Huds. in some references; binomial D. sylvestris Huds. has been used for wild teasel by majority of authors in N. America and the binomial D. fullonum L. reserved for the cultivated teasel- the opposite naming convention is used in Europe.
Common names: common teasel; wild teasel; card thistle
Dipsacus fullonum (common teasel) is a biennial forb/herb (family Dipsacaceae) sometimes used in flower arrangements, but was historically used as a hairbrush. It becomes a problem when it forms dense stands that are impenetrable to humans or livestock.
Cal-IPC Rating:
Moderate
Cal-IPC Assessment
Plant Assessment Form - Information gathered by Cal-IPC on the impacts, rate of spread, and distribution of invasive plants in California. Does not include management information.
Weed RIC Management Notes
Management Notes - Information on management techniques and effectiveness from the University of California Cooperative Extension's Weed Research & Information Center.
Cal-IPC Newsletter Articles
Cal-IPC Symposium Presentations
Carrithers, V. F. (1997). Using Transline* herbicide to control invasive plants. California Exotic Pest Plant Council Symposium '97. Concord, CA.
Other
Dipsacus fullonum

Information