Cotoneaster pannosus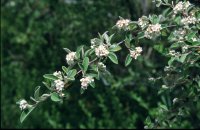 Synonyms: C. pannosus Franch.
Common names: silverleaf cotoneaster; velvet cotoneaster
Cotoneaster pannosus (silverleaf cotoneaster) is an evergreen shrub (family Rosaceae) found along the central and north coast of California, as well as in the northern South Coast Ranges and the Transverse Ranges. Silverleaf cotoneaster, with white flowers and red fruits, was introduced from China as an ornamental plant, and has escaped cultivation. It is found in disturbed places, especially near residential sites, as well as undisturbed coastal scrub, grassland and forests. Each plant can produce thousands of fruits every year, which are distributed by birds, small mammals, water movement and human activities. Mechanical removal of the shrubs can provide good control, but follow-up is needed, as the plants may resprout from the roots.
Rating:
Moderate
Cal-IPC Resources
Other Resources
Symposium Presentations
Connick, S. and M. Gerel (2004). Partnering to prevent invasions of plants of horticultural origin. California Invasive Plant Council Symposium 2004. Ventura, CA.
Heath, M., K. Moore, et al. (2005). Trees and shrubs discussion group. California Invasive Plant Council Symposium 2005. Chico, CA.
Cal-IPC News Articles
(1999). Richmond weed abatement ordinance. CalEPPC News. 7: 10.