Carduus tenuiflorus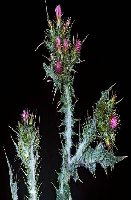 Common names: slenderflower thistle; Italian thistle; multiheaded thistle; seaside thistle; shore thistle; winged plumeless thistle
Carduus tenuiflorus (slender flowered thistle) is a tall annual or biennial (family Asteraceae) located along the California coast and in the Central Valley and Sierra foothill grasslands. It is similar in appearance and habitat to Italian thistle (Carduus pycnocephalus), but is less widely distributed.
Rating:
Limited
Cal-IPC Resources
Other Resources
Symposium Presentations
Cal-IPC News Articles
Pitcairn, M. (2000). All weeds that have approved biological control agents, accidental introductions and others. CalEPPC News. 8.