Bromus japonicus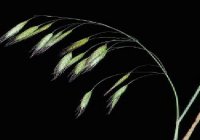 Synonyms: Bromus abolini Drob., Bromus chiapporianus de Not. Ex Nyman, Bromus commutatus Schrad., Bromus cyri Trin., Bromus gedrosianus Penzes, Bromus japonicus ssp. anatolicus (Boiss. & Heldr.) Penzes, Bromus japonicus Thunb. ex Murr. var. porectus Hack., Bromus japonicus var. susquarrosus (Borb.) Savul. & Rays, Bromus multiflorus DC. ex Lam. & DC, Bromus patulus Mert. & Koch, Bromus pendulus Schur. Bromus unilateralis Schur., Bromus vestitus Schrad.
Common names: Japanese brome; Japanese chess
Bromus japonicus (Japanese brome, Japanese chess) is a cool season annual grass (family Poaceae) commonly found in Northern California. This grass out-competes native grasses in areas where grazing and fire have been reduced.
Cal-IPC Rating:
Limited
Cal-IPC Assessment
Plant Assessment Form - Information gathered by Cal-IPC on the impacts, rate of spread, and distribution of invasive plants in California. Does not include management information.
Weed RIC Management Notes
Management Notes - Information on management techniques and effectiveness from the University of California Cooperative Extension's Weed Research & Information Center.
Cal-IPC Newsletter Articles
There are no newsletter articles associated with this species yet.
Cal-IPC Symposium Presentations
Bauder, E. T. (1996). Exotics in the southern California vernal pool ecosystem. California Exotic Pest Plant Council Symposium '96. San Diego, CA, CA.
Lair, K., N. Ritter, et al. (2006). Restoration of retired San Joaquin Valley farmlands using herbicides and activated charcoal. Cal-IPC Symposium. Rohnert Park, CA.
Other
Bromus japonicus

Information