Asparagus asparagoides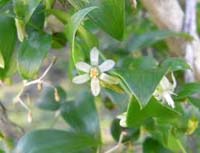 Synonyms: Myriophyllum asparagoides, Asparagus medeoloides, Dracaena medeoloides, Elachanthera sewelliae, Luzuriaga sewelliaea, Medeola asparagoides
Common names: bridal creeper; African asparagus fern; ornamental asparagus; smilax asparagus
Asparagus asparagoides (bridal creeper or African asparagus fern) is a rhizomatous perennial herb (family Liliaceae) found in riparian woodlands of California's central and south coast. Asparagus asparagoides colonizes both disturbed areas and undisturbed native habitats, but its current distribution is very limited. Plant shoots can form dense mats that limit light levels and then die back in the summer, creating a fire hazard. Plant colonies may also form a dense tuberous mat underground, preventing other plants from accessing soil moisture and nutrients.
Cal-IPC Rating:
Moderate
Cal-IPC Assessment
Plant Assessment Form - Information gathered by Cal-IPC on the impacts, rate of spread, and distribution of invasive plants in California. Does not include management information.
Weed RIC Management Notes
Management Notes - Information on management techniques and effectiveness from the University of California Cooperative Extension's Weed Research & Information Center.
Cal-IPC Newsletter Articles
Cal-IPC Symposium Presentations
Ratay, S. and J. Knapp (2007). Figs and bridal creeper: Two stubborn weeds that require ingenuity. California Invasive Plant Council Symposium 2007. San Diego, CA, California Invasive Plant Council.
Knapp, J. (2004). A gardener's dream, a land manager's nightmare: The spread of horticultural invasive plants into the wildlandsof Santa Catalina Island. California Invasive Plant Council Symposium 2004. Ventura, CA.
Pirosko, C. and S. Schoenig (2004). Forbs working group. California Invasive Plant Council Symposium 2004. Ventura, CA.
Other
Asparagus asparagoides

Information