Arctotheca calendula (fertile forms)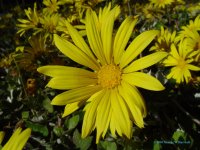 Synonyms: Arctotheca calendulacea (R. Br.) Lewin, Arctotis calendula L.; Cryptostemma calendulaceum (L.) R.Br
Common names: fertile capeweed
Arctotheca calendula (fertile capeweed) is a rosette-forming plant (family Asteraceae) found in coastal prairies of the San Francisco Bay area and California's north coast. An infertile type of capeweed is cultivated for use as an ornamental groundcover, and a fertile type has also been introduced. The infertile type is very competitive and can escape cultivation locally via creeping stolons, but fertile capeweed can spread faster, typically colonizing open or disturbed sites with exposed soil. Fertile capeweed is a major agricultural weed in Australia. New evidence suggests that the sterile and fertile forms are actually two separate species.
Rating:
Moderate
Cal-IPC Resources
Other Resources
Symposium Presentations
None for this species.
Cal-IPC News Articles