About the Program
Attending your first Cal-IPC Symposium and want to meet early career individuals and/or more experienced Cal-IPC-goers? The Cal-IPC mentorship program is intended to help new attendees get the most out of our annual symposium and provide all-career-stages to support new attendees.
How the program works
Prior to Symposium
An email will be distributed to the participants prior to the Symposium providing details for the Meet-Up during the Symposium. This email will also include a questionnaire used for mentor assignment.
Each mentee will be assigned to a mentor. If there is an imbalance, a mentor may be assigned to one or more mentees (we will ask first!).
Meet-Up at the Symposium:
Oct. 25, 4:45 – 5:45 pm
Madison Bear Garden, 316 West Second Street, Chico, CA (6 min walk from Colusa Hall)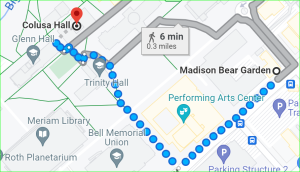 This is an opportunity for everyone to meet one other and chat. Program organizers will be there to offer suggestions for making the most out of the mentorship interactions and the Symposium.
After the initial meeting, mentor-mentees can meet up when and how they choose. Interactions often include attending poster session together or checking in over coffee. Mentors can also help their mentees to meet others and help grow their networks.