by Joseph M. DiTomaso
2014 California Weeds
$50 (plus tax and shipping).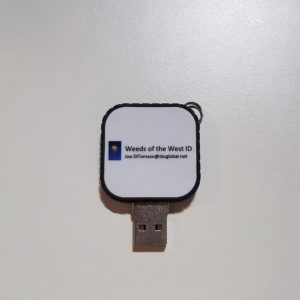 This USB drive contains the identification databases for both "Broadleaf Weeds of California" and "Grass and Grass-like Weeds of California," allowing identification of 722 broadleaf species and 200 weedy grasses by characteristics visible to the naked eye. It includes many photos and a "forgiveness factor" that allows you to reach the correct species even if you make a mistake in the key. By Joe DiTomaso of UC Davis. Note: The database on this USB works on PC computers only.
To order a copy
All books, brochures, and the USB drive may be ordered online through the Cal-IPC shop, by printing the order form or by calling us at 510-843-3902. Please make checks payable to Cal-IPC and mail to: Cal-IPC, 1442-A Walnut St. #462, Berkeley, CA 94709.
Dr. DiTomaso is a non-crop weed specialist at UC Davis, and heads the Weed Research and Information Center. He is a former member of the Cal-IPC Board of Directors.