Region covered : Parts of Riverside/San Diego Counties
Chair: Ilima Hawkins, USDA Natural Resource Conservaton Service
General contact: Ilima Hawkins at 760-342-4624 ext 124 or ilima.hawkins@ca.usda.gov
Meetings: Held twice a year, location varies
Formed: 2004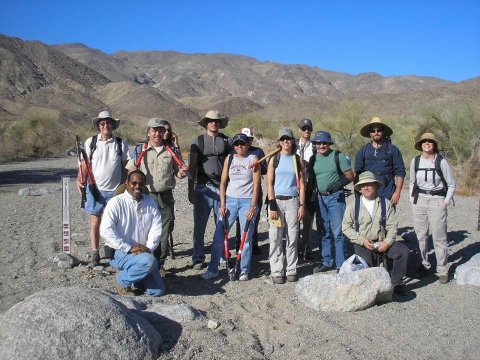 Saltcedar work party organized by the Low Desert WMA.
Outreach Summary:
Publications
Five Worst Weeds brochure
Project Highlights:
Santa Rosa and San Jacinto Mountains NM saltcedar removal

The Santa Rosa and San Jacinto Mountains National Monument is adjacent to Palm Springs and the desert communities of the Coachella Valley. The Low Desert WMA recieved a grant from the California Department of Food & Agriculture for the eradication of Salt cedar within the National Monument. Methods for controlling weeds in this project are mechanical, chemical and hand pulling.
Project partners: California Department of Fish & Game, United States Department of Agriculture Forest Service, Friends of Desert Mountains volunteers and the United States Department of Interior Bureau of Land Management.
Organizations on WMA's MOU
Riverside & San Diego Conservation & Development Council
United States Natural Resource Conservation Service
United States Geological Survey
United States Department of Agriculture Forest Service
United States Fish & Wildlife Service
United States Department of Interior Bureau of Land Management
University of California Natural Reserve System
University of California Cooperative Extension
Southern Low Desert Resource Conservation District
Sonny Bono Salton Sea Wildlife Refuge
San Diego County Agriculture Commission
Riverside County Agriculture Commission
Palo Verde Water District
United States Department of Interior National Park Service
Friends of Desert Mountains
Desert Managers Group
Coachella Valley Water District
Center for Natural Lands Management
California Native Plant Society
California State Parks & Recreation
California Department of Transportation
California Department of Fish & Game
California Department of Food & Agriculture
Southern Low Desert Resource Conservation & Development