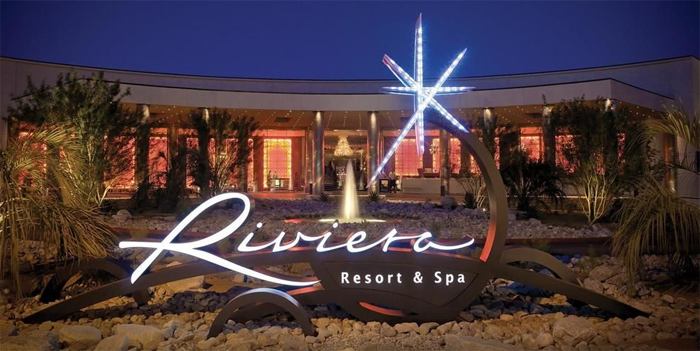 Lodging and Conference Facility
We are staying and meeting at the beautiful Riviera Palm Springs!
Situated 100 miles inland in the beautiful Coachella Valley, Palm Springs has been a destination for southern Californians for generations. Our conference hotel, the Riviera, was once a hangout for Frank Sinatra, Dean Martin, Sammy Davis, Jr. and the rest of the Rat Pack. A recent review by SFGATE says it has a "playful, plush vibe (with) retro furniture and cheeky postmodern decor…" With three pools, six restaurants and bars, and warm desert air, it's bound to be a good spot for decompressing after a busy field season.
$95.00 single/double conference price through Oct. 1
Reservations: Use our conference reservation page or call 866-961-3785.
Update: The hotel is sold out for Friday night, but rooms for Mon-Thu remain available.
Travel to Palm Springs
See the webpage at visitpalmsprings.com for great information on getting to Palm Springs by air, train or bus. (The site also has a lot of information about restaurants, museums, hikes and other attractions.)
A few travel notes:
Coordinating plans: We will post a google doc to help you coordinate your travel plans with other attendees.
From SFO: You can fly directly from SFO to Palm Springs (Alaska and Virgin have $228 RT fares as of May 19).
From SAC: You can fly to LAX (American, Delta, or United.have $155 RT fares as of May 19). From LAX it is a 90-minute drive to Palm Springs. You can coordinate with other attendees to rent a car or organize a van with Prime Time Shuttle (310-536-7922, $278 one-way shuttle van for 9, which comes to ~$30 each).
Ride sharing and room sharing
We have posted a google document as a bulletin board for coordinating ride shares and room shares. If you need a ride or room, or if you have a ride or room to offer, please post here.