Reports | Books | CD-ROMS | Brochures
Order online, by phone or by mail
All books, brochures, and CD-ROMs may be ordered online through the Cal-IPC shop or by printing the order form. Please make checks payable to Cal-IPC and mail to: Cal-IPC, 1442-A Walnut St. #462, Berkeley, CA 94709.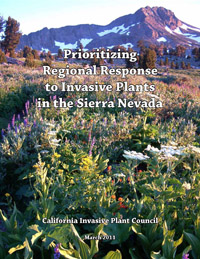 Sierra Regional Priorities Report
Reports
All reports may be downloaded as free pdfs. Some also are available for purchase as printed copies.
Bioinvasions in a Changing World: A Resource on Invasive Species-Climate Change Interactions for Conservation and Natural Resource Management (2014) – Cal-IPC assisted with this report that provides an overview of the connections between invasive species and climate change then looks at how these communities approach conservation and natural resource management. Download report.
Prevention Best Management Practices for Land Managers – More Info
Prevention Best Management Practices for Transportation and Utility Corridors – More Info
Arundo donax: Distribution and Impact Report (2011) More Info
From 2008-2010, Cal-IPC mapped Arundo donax at high resolution on all coastal watersheds in California from Monterey to San Diego. Impacts from Arundo invasion were calculated over the study area, including impacts to biomass production, water use, fire, geomorphic and fluvial processes, and endangered species.
Prioritizing Regional Response to Invasive Plants in the Sierra Nevada (2011) More Info.
This report presents statewide risk maps and priority management recommendations for 43 invasive plant species selected to be of special importance for the Sierra Nevada region of California.
Research Needs for Invasive Plants in California (2009) More Info.
This project produced a summary of major research needs for California invasive plants that can be used to inform state policy and provide ideas for researchers, especially graduate students.
Use of Fire for Controlling Invasive Plants (2006) More Info.
The goal of this report is to capture the current state of knowledge on the use of fire as a tool to manage invasive plants in wildlands.
2006 Invasive Plant Inventory (2006) More Info.
The California Invasive Plant Inventory categorizes non-native invasive plants that threaten the state's wildlands. Categorization is based on an assessment of the ecological impacts of each plant. The Inventory represents the best available knowledge of invasive plant experts in the state.
Weeds of California and Other Western States
Books
Weed Control in Natural Areas in the Western United States (2013) More Info.
Published by the University of California Weed Research & Information Center (Joseph M. DiTomaso et al.) Biology and control methods for 340 species.
Weeds of California and Other Western States (2006) More Info.
This two-volume, 1900-page book is the most comprehensive weed identification book ever produced in the United States.
Yellow Starthistle Management Guide (2006) More Info.
This guide begins with a description of the biology and ecology of yellow starthistle and provides a comprehensive overview of treatment methods for yellow starthistle.
The Weed Workers' Handbook (2004) More Info.
Published by the Watershed Project and Cal-IPC, the Weed Workers' Handbook explains how to remove more than 35 of the San Francisco Bay Area's most invasive plants.
Aquatic and Riparian Weeds of the West (2003) More Info.
This reference manual combines stunning photography with complete information for weed identification and biology. Over 550 photos illustrate 170 species of submerged, floating leaf, and emergent aquatic weeds, including common riparian invaders such as Arundo donax, purple loosestrife, Harding grass, Spartina species, and Russian olive.
Invasive Plants of California's Wildlands (2000) More Info.
This book provides specific information about the biology and control of 78 nonnative plant species that are listed by Cal-IPC as being of greatest ecological concern in California.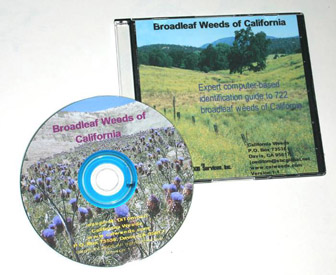 Grass and Grass-Like Weeds of California
CD-ROMS
Grass and Grass-Like Weeds of California More Info.
This CD allows you to identify 200 weedy grasses using only plant parts visible to the naked eye. The intuitive keys offer a great way of self-tutoring on grass identification. PC format.
Broadleaf Weeds of California More Info.
A companion to Grass and Grass-Like Weeds of California, this CD includes interactive keys to 750 weed species. PC format.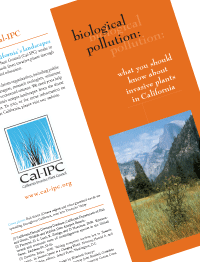 Biological Pollution brochure
Brochures
We can provide up to 10 brochures at no charge. E-mail info@cal-ipc.org to request. Larger quantities may be purchased through the Cal-IPC online Shop.
Don't Plant a Pest! More Info.
Provides alternatives to invasive plants for gardeners, landscapers, and others in the horticultural community. Versions for San Francisco Bay Area, Southern California (English and Spanish), Central Coast, Central Valley, Sierra Foothills, Trees of California, and Aquatic Plants.
Biological Pollution Download PDF (618 KB)
What you should know about invasive plants in California. Introduces a general audience to the ecological and economic impacts of invasive plants.
Contaminacion Biologica
Descargue aqui el archivo pdf del folleto Contaminación Biologica. (2.21 MB)
Lo que usted debe saber acerca de plantas invasoras en California. Este folleto introduce a una audiencia general los impactos ecológicos y económicos de las plantas invasoras. La versión en español esta disponible sólo en un formato pdf.
Japanese Dodder Download PDF (1.18 MB)
Help stop the spread of this invader to California with this multi-language brochure produced by Cal-IPC and partners. The brochure provides a description of Japanese dodder and information on how to report it in English, Spanish, Mandarin, and Hmong.
These brochures are out of print.
Pampasgrass and Jubata Grass Threaten California Coastal Habitats. Download PDF (335 KB)
Perennial Pepperweed (Lepidium latifolium): Foreign Invader in California's Wildlands Download PDF (358 KB)