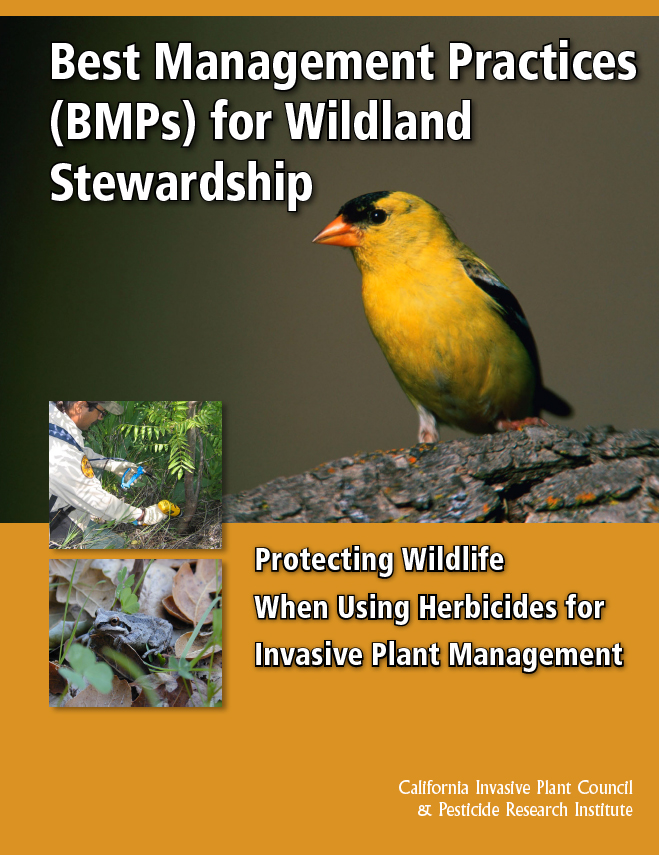 Protecting wildlife habitat often requires controlling invasive plants, and those conducting invasive plant removal need to be sure their approach is safe for wildlife. This manual of Best Management Practices presents ways land managers can protect wildlife when using herbicides to control invasive plants. (While any invasive plant removal approach can potentially affect wildlife, chemical control methods are the focus of this report.) Herbicides are an important tool in the IPM (Integrated Pest Management) toolbox for controlling wildland weeds. Toxicology information is presented on herbicides most commonly used for invasive plant management in California natural areas. The BMPs are drawn from methods used by experienced land managers. Along with providing guidance for land managers, this document is designed to inform the interested public about how herbicides are used to control invasive plants in natural areas.
The manual is available for free download. You will be asked for some basic information so that we can track usage of the document.
Download BMP Manual (19MB PDF)
Cal-IPC produced this manual in partnership with the Pesticide Research Institute. Charts with Herbicide Risk Comparisons are available on the PRI website.
Also see Cal-IPC's other BMP Manuals on preventing spread of invasive plants.
Comments? Send your ideas for improving this BMP manual to us at info@cal-ipc.org.
Like this free resource? Consider a donation or membership.