Linaria vulgaris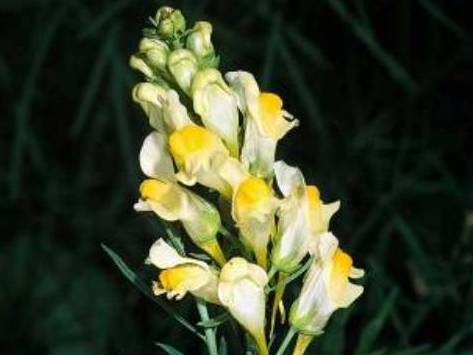 Common names: yellow toadflax; butter and eggs; common linaria; common toadflax; wild snapdragon
Linaria vulgaris (yellow toadflax, butter and eggs) is an herbaceous perennial (family Scrophulariaceae) that was introduced as an ornamental. It can be found in disturbed open sites, fields, pastures, degraded rangelands, roadsides, agronomic and perennial crops. Although it is typically found in northern California, it can occur sporadically in many other areas of California, except desert areas and the Big Basin. Infestations often form large colonies, displacing desirable vegetation.
Rating:
Moderate
Cal-IPC Resources
Other Resources
Symposium Presentations
Donaldson, S., W. West, et al. (2003). Getting the job done: Working within the regulatory environment at Lake Tahoe to manage weeds. California Invasive Plant Council Symposium 2003. Kings Beach, CA.
O'Connell, R. A. (1997). Hydrilla: A case study: The state of California's noxious weed eradication programs. California Exotic Pest Plant Council Symposium '97. Concord, CA.
Cal-IPC News Articles
Brusati, E., D. Morawitz, et al. (2011). Prioritizing Regional Response to Invasive Plants in the Sierra Nevada. Cal-IPC News. 19: 4, 5, 10.
Donaldson, S. (2003). Fighting weeds in the Tahoe basin. CalEPPC News. 11: 7.
Pitcairn, M. (2000). All weeds that have approved biological control agents, accidental introductions and others. CalEPPC News. 8.