Limonium ramosissimum ssp. provinciale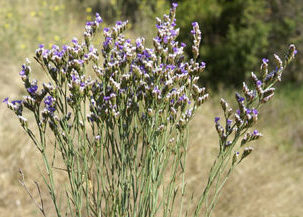 Common names: Algerian sea lavendar
Limonium ramosissimum ssp. provinciale (Algerian sea lavender) is a perennial plant (family Plumbaginaceae) that can be found in Southern California. An ornamental escape native to coastal Mediterranean, it grows in coastal areas and sand dunes.
The plant reproduces by seeds which can retain the ability to germinate after two weeks floating in salt water. Currently only the provinciale subspecies is listed on our Inventory. However, many collections recorded in California have not included a subspecies. Also, the Limonium species along the southern California coast may actually be Limonium duriusculum rather than L. ramosissimum.
Cal-IPC Rating:
Limited
Cal-IPC Assessment
Plant Assessment Form - Information gathered by Cal-IPC on the impacts, rate of spread, and distribution of invasive plants in California. Does not include management information.
Weed RIC Management Notes
No Weed RIC Management Notes are available for this species. Check for information on other species in the genus on the Weed RIC site.
Cal-IPC Newsletter Articles
Cal-IPC Symposium Presentations
Perlmutter, M., G. Archbald, et al. (2011). Eradicating Algerian sea lavender (Limonium ramosissimum) from San Francisco Bay wetlands. Cal-IPC 2011 Symposium. Tahoe City, CA, California Invasive Plant Council.
Cleave, A. and K. E. Boyer (2010). Effects of invasive Limonium ramosissimum on native salt marsh communities in a changing environment. Cal-IPC 2010 Symposium. Ventura, CA, California Invasive Plant Council.

Archbald, G. and K. Boyer (2009). Evaluating the potential for spread of an invasive forb, Limonium ramosissimum, in San Francisco Bay salt marshes. Cal-IPC Symposium 2009. Visalia, CA, Cal-IPC.
Other
Limonium ramosissimum ssp. provinciale

Information