Fallopia japonica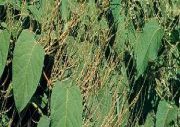 Synonyms: Polygonum cuspidatum; Reynoutria japonica, Fallopia baldschuanica
Common names: Japanese knotweed; Mexican bamboo
Fallopia japonica (=Polygonum cuspidatum) (Japanese knotweed) is a perennial forb/herb (family Polygonaceae ). Plants grow vigorously and create dense colonies that exclude other vegetation. Established colonies are extremely difficult to eradicate. It inhabits disturbed moist sites, roadsides, riparian and wetland areas. Plants typically grow in open, sunny areas on moist soils in cool temperate climates. There is very little of this species in California, but it is spreading rapidly in the Northwest and has been a major problem in the southern and northern US, as well as Europe.
Rating:
Moderate
Cal-IPC Resources
Other Resources
Symposium Presentations
None for this species.
Cal-IPC News Articles